Cloud Solutions and Services
Cloud Solutions is the new buzzword in the IT world. It has great potential and far reaching consequences for every business.
It could change how you pay for IT and remove the need for an expensive server, or servers, in your office.
Concerned about cloud services and security? Looking for cloud solutions? Call IT Radix.
What is "Cloud Solutions"?
Cloud Computing is new; it's so new, that there isn't a clear definition yet. But here's how Wikipedia defines it:
Cloud solutions is the use of computing resources (hardware and software) that are delivered as a service over a network (typically the Internet). Cloud solutions relies on sharing of resources to achieve coherence and economies of scale similar to a utility (like the electricity grid) over a network.
No Need for a Server in Your Office
The basic concept is that you do not need to buy expensive servers. Instead, your server or servers will be in the "cloud" and you will access them via the Internet. Since IT Radix is a cloud server provider, we would manage your servers in the "cloud" for you.
Depending upon your business needs, cloud servers could provide some or all of your computing needs such as email, line-of-business applications and data storage.
Is Moving to the Cloud a Smart Move?
It's hard to ignore the potential cost savings; however, you need to consider a number of things before jumping to cloud services and solutions. Things you need to consider include:
The reliability of your Internet connection
The type of help desk support you want
Security
Your applications such as accounting, CRM or other line-of-business applications
Devices that you may wish to use such as scanners, printers, iPads, etc.
Cloud Solutions Eliminate Capital Expenditure
Your up-front capital cost will be lower or perhaps even zero. Instead, you pay a monthly fee for the use of the server and its support.
Grows With You, Without Big Capital Costs
If your business is growing, cloud solutions will scale nicely with you. You can increase usage without additional capital expense. Just pay for the extra users or storage space when you need them.
So What Should You Move to the Cloud First?
We recommend taking it one step at a time. You can test the waters (or the clouds). Moving parts of your IT infrastructure in a controlled, well-managed manner.
Here are some places to start moving into the Cloud:
IT Support – In most cases, there is no need for a tech to visit your desk to fix most of your computer problems. Using the cloud, we can connect to your PC or server (with your permission, of course!) and fix your problems. Get your problems fixed faster, more conveniently and for less cost. To find out more about IT Radix's IT Support, click here.
Email – Hosted Exchange is a great solution. Your email will always be up even if your office server is down. You can easily keep your email, contacts and calendar in sync across multiple devices, from any location. To find out more about IT Radix's Hosted Exchange solutions, click here.
Online Data Backup – For many, online data backup is the easiest, most effective and secure way to back up your data. Your data is encrypted, transmitted across the Internet automatically, and stored at a secure data center. No more buying tapes or other media. It's fully automatic, so you don't need to do anything. As a managed service client, we'll monitor it for you every day to ensure it is running correctly.
Data – You can easily and securely store your data in the Cloud, making it easier for mobile and remote workers to access.
Hosted Applications – Software is becoming increasingly available as a simple per-user subscription. We can help you evaluate if this approach is a good fit for you.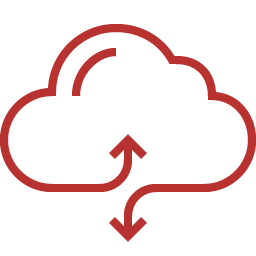 Are You Ready? Ask Us for a Free Cloud Computing Consultation
If you want to know if cloud solutions is right for you, complete the form on the top/left of this page or give us a call. We'll perform a cloud readiness assessment for free, with no pressure or obligation to buy. We'll review your current situation and provide you with options for moving to the cloud. We'll not only answer any questions you have but also provide valuable insights into the pros and cons of the various cloud options.