Resources To Navigate Your Business During These Times
We're in this together!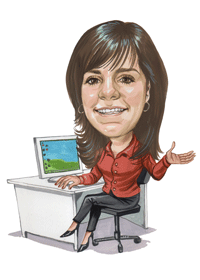 There is so much information about COVID-19, so we've decided to curate it for you, offering you the most important and relevant information about navigating this from a business perspective. You'll find resources here on planning financially, working remotely, helping your employees cope, and leading with excellence during a crisis.
We will continue to update the resources found here as there are new developments and programs available.
As always, I'm here to offer any guidance you need on concerns about your business and business continuity so that you can keep working.
We're in this together!
Stabilize Your Business: Improvise, Adapt, Overcome
With constant changes brought on by the COVID-19 pandemic, your business may face cash flow challenges or even new opportunities. To respond to these changes, look no further than a familiar motto: Improvise, Adapt, Overcome.
The motto used by the U.S. Marine Corps outlines steps you can use to combat the challenges you are facing as you make decisions that will be key to the survival of your business.
We've compiled some great business resources to help you improvise, adapt and overcome. There's a lot here so take your time and take it in small bites.
Select the topic bar to expand for more info
Just like the flight attendants advise on an airplane, put your oxygen mask on first. Here are some tools and thoughts on how to ensure you can get through the first 90 days of this crisis. The links include tips, tools and templates as well as great resources for navigating the changing government economic initiatives.
Improvise:
Meet with your CPA and/or Controller/Accountant and create a financial plan for the next 90 days. Re-evaluate this plan every 1-2 weeks to see if you need to adjust.
Adapt:
Consider adding an expense line item called COVID-19 to your organization's general ledger and track all expenses in there including your staff and personal time spent dealing with the crisis. Click here for a 30-second video by Ron Lovett, author of Outrageous Empowerment, explains why it will make it easier to apply for government assistance if and when it comes available.
Stress test your cash! Use this tool for managing cash for free for 3 months. Stress test your cash here with just 6 numbers from your financials.
Check out the Financial Crisis Management Templates from CPA and Author, Greg Crabtree. They can help determine if you have the capital needed to get back to pre-COVID-19 profitability levels (or better)? Click here for access to some useful templates to help you evaluate and decide.
Overcome:
Demystifying CARES Act
This link brings you to a "guide" to the various loans. It was prepared by the U.S. Chamber of Commerce. It has a very readable summary of the various loans and grants available.
Apply for a loan as soon as its available. Apply even if you think you won't need it. You can always say NO. You can find all the information here.
If you need assistance navigating this, reach out to your accountant or I recommend contacting Profitlinq here
Top 6 Best Practices For Businesses Amid COVID-19
Scan the article here for details, but in a nutshell:
Prioritize Issues of Greatest Urgency
Triple Your Communication
Work from Home
Use Video Conferencing
Manage Your Cash
Look for Opportunities to Do Something Extraordinary
Mindset for Scary Times - a great podcast
How is all of this affecting business? And how will it affect YOUR business? While many people are in a panic, Jay Abraham, Dean Jackson, and Joe Polish are NOT panicking at all, and you should know why. The three of them just had one of the most insightful, calm, and important conversations ever about succeeding in business in scary times such as what we're experiencing right now. They recorded the conversation and it is available for you to listen at: I Love Marketing podcast Episode #362. You can check it out here.
Risk Mitigation Strategies from McKinsey:
This is a few days old but after re-reading this weekend I feel it is still very relevant and is one of the most comprehensive overviews I have seen to date. There is a checklist at the end of the article that gives a very good overview of what to be doing to mitigate risk. You can read it here
Keeping Your Office Safe and Your Staff Safe When Going to a Client Site:
If your facility is still operating and you have any staff coming onsite, you need to have clear protocols in place as to how and when people access the building. Click here for a copy of our protocols for coming to the office, disinfecting yourself, receiving visitors, and receiving packages/mail. Or conversely, if you need to send your team into the field for any reason, similar protocols will apply.
Staying Centered and Grounded
More Important Now Than Ever!
We are in unprecedented times and the pressure on us as leaders has never been as great. Now more than ever we need to assure we take time for centering, grounding, mindfulness. You might want to check out apps like "Insight Timer" or "Calm" which are both personal favorites of mine.
Pass along to your team!
COVID-19 Live Tracker
This is a comprehensive, as close to real time as I have found, tracker of the global to local impact. Book mark this so you have access to data should there be a need. https://ncov2019.live/data
From the CDC - What to do if you think you may have COVID-19
You may want to include this information when you're communicating to your teams.
COVID-19 Prevention
Obviously we are not medical professionals, but there is some evidence that suggests high dose Vitamin C can help boost your immune system. Please judge this for yourself but here is data for your consideration from WorldHealth.net.
Technology Best Practices for Working Remotely, Efficiently and Securely
How to Stay Connected While Working at Home
In the midst of COVID-19, telecommuting has become essential to keep businesses operational. We are here to help you be fully prepared to take on the transition to working from home and we want to start by discussing the easiest ways to continue collaboration with teammates outside of the office.
Check out our webinar on Technology Best Practices for Working Remotely, Efficiently and Securely here.
Don't Have Laptops or PCs For Your Remote Workers?
IT Radix has a limited number of new PCs, laptops and even USB headsets that we can configure for remote workers to use at home. These machine would be suitable for long-term use even after the COVID-19 crisis is over. Contact us to discuss potential options.
Is your data secure and backed up while team members are working from home? Can your team collaborate effectively from different locations? Don't let COVID-19 halt your business operations. Review your company's WFH readiness and identify potential areas needing attention with our Telecommuting Preparedness Checklist here.
Collaboration Tools and Platforms
Can your team communicate easily with one another? It's critical to over communicate during this time.
Select the topic bar to expand for more info on tools and options for your business
Don't Skip Security - Ensure Your Data is Protected
Security Best Practices
Security is increasingly important to businesses everywhere. With data ransoms and malware becoming increasingly sneaky, protecting your devices and data is more important than ever.
If you are interested in learning more about other security measures you can implement or how they can protect your business, visit our security solutions page.
Various Tips
How to manage virtual meetings
With the Stay-At-Home orders increasing, it's important to have strong and frequent meetings. Here's a list of resources for how to effectively manage virtual meetings.