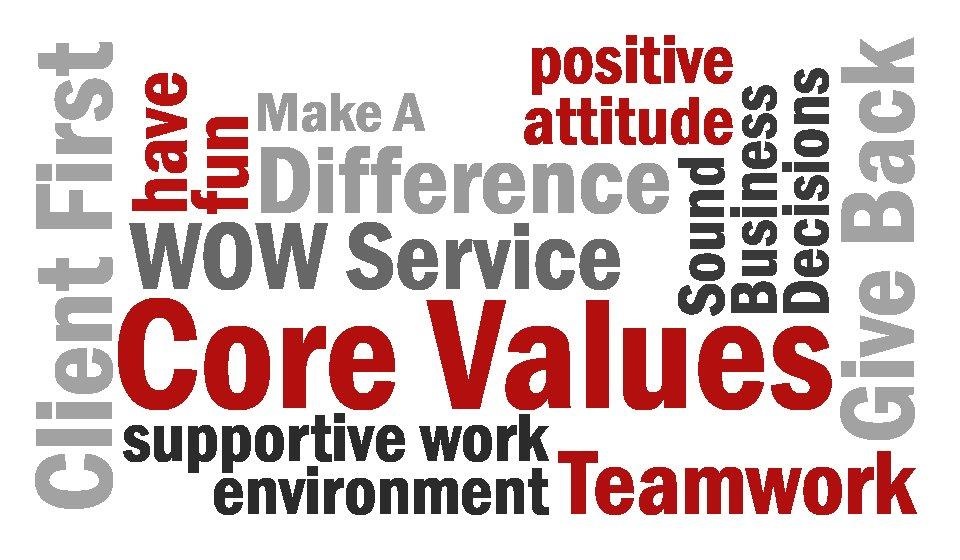 Core Values
I believe our 9 core values are the secret to our success.
We developed them together, and we live them every day.
– Cathy Coloff
We provide WOW service. Working with people to develop, maintain and support information technology in business is our passion.  At IT Radix, we put that passion to work for you to ensure that you've got the right computer support solutions in place and are leveraging them to benefit you most.
Clients come first. Striving to exceed client expectations is our top priority.  But don't take our word for it.  Click here to see what some of our clients have said about us!
Our people make a difference. Click here to meet our fabulous team.
We have a supportive, flexible work environment Our people are our best asset. That's why we provide our employees with flexible working environments that meet both their business and personal needs. This win-win philosophy has proven to benefit our clients as well, as we strive to support their unique IT needs.
We work as a team.
We give back and support our community. IT Radix reaches out to our community in many different ways. A percentage of all profits are donated to employee-selected, non-profit organizations. Throughout the year, donations are made to organizations of our client's choice through our Referral Rewards program.  We also enjoy sharing our time by volunteering at local community events.
We make sound business decisions to enable us to be profitable so that we can achieve our company and personal goals. We know that each business is unique. We break out of the cookie-cutter approach to IT support and customize our services to each and every one of our clients to meet their specific needs.
We bring a positive attitude toward everything we do. Our positive, can-do mindset makes our team great to work with whether it's resolving a problem or planning future IT projects.
We have fun. Who says you can't have fun at work? We love what we do, and adding a little humor and fun to both our and our client's day makes it even better.  Maybe you'd like to help us celebrate Hat Day next year?