Do happy employees make for happy customers?  We certainly think so. IT Radix is thrilled to announce that we have been named one of the Best Places to Work in New Jersey! This distinction is given by NJBIZ magazine, New Jersey's leading business journal.  The award is based on reviews—reviews by the employees of the companies that are surveyed. NJBIZ collects data confidentially from staff members at companies all over New Jersey and analyzes that data to come up with the list of the "2019 Best Places to Work in New Jersey." IT Radix is one of this year's honorees in the "small companies" category (under 50 employees).
What This Means for Our Customers
The honor is clearly great news for IT Radix, but what does it mean for our customers?  When employees have a positive attitude toward their work, it naturally spills over into their customer interactions.  Happy employees will go the extra mile to deliver high-quality service and an exceptional customer experience.  That's why companies whose employees rank them as one of the best places to work also tend to have higher customer satisfaction rankings.  At IT Radix, our core values are aligned with the most common characteristics of companies with high employee engagement:  a clear vision, honest leadership, a culture of collaboration, open communication and a willingness to hear honest feedback.  Those core values guide not only our employee relationships, but also our relationships with customers.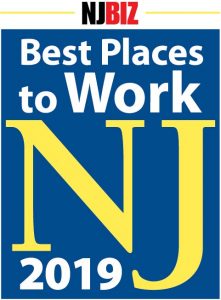 We are honored to receive this accolade, and we thank our employees and customers for their loyalty and support.  NJBIZ will celebrate IT Radix along with the other distinguished winners at an awards reception and ceremony on May 1 at the iPlay America Event Center in Freehold, New Jersey.
Click here for additional awards received by Cathy Coloff and her IT Radix team!