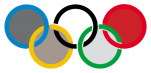 Amy - Beach Volleyball & Gymnastics
Did you know? Beach Volleyball made its Olympic debut at Atlanta 1996. Since then it has become one of the most popular spectator sports at the Games.
Ashleigh – Archery - It's actually a hobby of mine!
Did you know? Archery dates back around 10,000 years, when bows and arrows were first used for hunting and warfare, before it developed as a competitive activity in medieval England. A tense and testing sport that requires immense reserves of skill and nerve, Archery is now practiced in more than 140 countries around the world.
Cathy – Sailing
Did you know? Sailing made its Olympic debut in Paris 1900 with both men's and women's competitions. The sport's name was changed from Yachting to Sailing at the Sydney 2000 Games.
Christy – I don't really follow the Olympics. However, I used to love watching the ice skating with my grandmother when I was a kid.
Chuck – Basketball
Did you know? Professional players first competed at the Barcelona 1992 Games, when the famous US "Dream Team" won gold in the men's event. 600 basketballs were used during the London 2012 Basketball competition.
CW – Not a fan.
Dan – Decathlon - It's almost like 10 sports in one!
Did you know? The Decathlon as we know was not included in the Olympic Games until 1912, though there was a similar mulit-event, the all-round, held in 1904.
Doug – Cycling (Mountain Bike)
Did you know? Mountain Biking is a young sport that has risen to worldwide popularity at an amazing rate. Fast and furious, the sport developed in northern California during the 1970s. However, it quickly spread from its low-key beginnings and now has a huge following around the globe, which has only grown since its arrival on the Olympic programme in 1996. In Mountain Bike events, riders may carry out their own repairs, and are only allowed to receive outside assistance in dedicated assistance zones should they have any mechanical problems.
Dylan – Curling (alas, this is a Winter event)
Did you know? Curling first appeared at the first Winter Olympics in 1924, but was then removed from the official program. It rejoined the games as an official sport at the 1998 Winter Olympics in Nagano, Japan and has been a staple ever since.
Fred – Volleyball
Did you know? Volleyball was first introduced to the Olympics in Tokyo in 1964.
Jandy – Gymnastics - I was never very flexible and always wanted to learn how to do a cartwheel!
Did you know? The grace, strength and skill of Olympic gymnasts have been astonishing audiences since the Games in Ancient Greece, where Gymnastics was regarded as the perfect symmetry between mind and body. The best known of the three Gymnastics disciplines, Artistic Gymnastics is always among the most popular competitions at the Games. A perfect 10 is no longer the top score in Gymnastics. Open-ended scoring was introduced in 2006. The word gymnastics comes from the Greek for naked–early gymnasts used to perform without any clothes.
Jim – Boxing
Did you know? Boxing featured at the original Olympic Games in the 7th century BC, when opponents fought with strips of leather wrapped around their fists. The essence of these rules is still in place today, governing this exciting and dramatic Olympic sport. Women's boxing will make its Olympic debut in London 2012. During the Games, competitors will get through 432 pairs of gloves. Olympic Boxers are not allowed to box past the age of 34.
Jo Ann – Women's Athletics & Gymanstics – I love watching pole vault/triple jump/long jump (all events that my daughter is involved with). Watching them with her is the best part! I also enjoy gymnastics. As an acrobat from way back when, I enjoy watching the choreography mixed with flips and spins–makes me want to try a cartwheel or two.
Did you know? Athletics is the perfect expression of the Olympic motto 'Citius, Altius, Fortius' ('Faster, Higher, Stronger')–the competition requires athletes to run faster, throw further, jump higher and leap longer than their rivals. With 2,000 athletes competing in 47 events, Athletics is the largest single sport at the Games.
Joe – Track and Field & Gymnastics – It is amazing to see the statistics change over the years as the athletes outperform the past year's results.
Did you know? Dick Fosbury was one of the most influential high jumpers in modern Olympic history. His technique, known as the "Fosbury Flop," involves the jumper clearing the bar head first and backwards. Until Fosbury introduced his unique style, most jumpers used a straddle technique that sometimes ended in injury. Fosbury's style was completely innovative, allowed for higher jumps, and is used by almost all high jumpers today.
John – I am not much of an Olympic viewer, especially summer.
Ken – ???? Boring!
Kris – Swimming & Diving
Did you know? In the 19th century, gymnasts practiced moves into water–known as "fancy diving." At Seoul 1988, America's Greg Louganis hit his head on the 3m springboard while executing one of his dives in the preliminary phase. Amazingly, he scraped through to the semi-final and recovered to win the gold medal in the final.
Laurie S. – Gymnastics
Did you know? In the Olympics, only men can compete in the Rings, Parallel Bars, Horizontal Bars, and Pommel Horse. Only women can compete in the Balance Beam and Uneven Bars.
Laurie T. – Diving
Did you know? In the 1948 Olympics, the U.S. won every event in the swimming competition.
Marybeth – Football, Gymnastics & Swimming – I love the Olympics and can't decide–three way tie!
Did you know? Football (a.k.a., soccer) was introduced as a medal sport at the Paris 1900 Olympic Games. Great Britain won the men's gold medal, then successfully defended their title four years later in Stockholm. The sport has featured at every Olympic Games since, except for Los Angeles 1932. The first women's competition was at Atlanta 1996. During the London 2012 Football competition, approximately 2,400 footballs were used.
Matthew – Rowing
Did you know? The french boy who coxed the Dutch winning pair in the rowing events at the 1900 Olympics is believed to have been only 7 years old.
Melissa – Gymnastics & Swimming – I have always been a big fan of the Olympics, especially the summer games.
Mike – Archery, Wrestling & Fencing – I must say that I always enjoy watching events that I have some sort of personal connection with. For example, 4 years ago when my son was wrestling for the middle school we watched almost all of the televised wrestling matches. My daughter and I are pretty bummed that Women's Softball has been removed from the Olympics. I would have certainly been glued to the TV cheering for the U.S. Women. Being an Archer myself, I would probably say that Archery is my all around favorite event. This year though I will be keeping my eye on the Fencing events as my son has been fencing for about a year now and I find the sport incredibly entertaining.
Did you know? Although sword fighting dates back thousands of years, Fencing as we now understand it really came of age as a sport in the 19th century. A tense, compelling battle of wits and technique, the sport is one of the few to have featured at every modern Olympic Games.
Nina – Volleyball & Swimming - Although, I must admit that I'm not the biggest fan of the Olympics.
Did you know? The U.S. is the most dominant swimming country in the world, winning the medal count at every Olympics for the past 56 years. So, over the past 12 years, the U.S. has destroyed the competition, winning 65 more medals than any other country. And of those 119 medals, 51 were gold.
Pat – Beach Volleyball
Did you know? The United States has won five of the eight Olympic gold medals awarded since the sport's introduction at the Atlanta 1996 Games.
Paula – I like them all!
Rachel – Swimming (and diving) and Gymnastics
Did you know? Esther Williams did not win any Olympic medals for swimming or for diving. The year she was to compete (1940) the Olympics were suspended due to WWII.
Robin – Sorry, I don't watch them... It's too nice outside to sit inside and watch the Summer Olympics. 😊
Sheila – Swimming
Did you know? In 1964, there were only two 14-year-olds competing in the Olympic Trials--Mark Spitz, who went on to win seven gold medals at the 1972 Olympics and Dennis Pursley, who went on to become the USS National Team Director.
Thomas – Swimming - and whatever is new that year just to satisfy my curiosity and experience the growing pains of a new event.
Did you know? In the 1948 Olympics, the U.S. won every event in the swimming competition.
Tom – I don't really watch the Olympics.
Tommy – I don't really watch that much of the Olympics.
Tracy – Modern Pentathlon
Did you know? Modern Pentathlon was championed by Baron Pierre de Coubertin, the founder of the modern Olympic Games, and has its origins in a 19th-century legend. The story goes that a young French cavalry officer was sent on horseback to deliver a message. To complete his mission, he had to ride, fence, shoot, swim and run–the five challenges that face competitors in Modern Pentathlon today. George S. Patton, who later became General of the U.S. Army, competed in the first Olympic Modern Pentathlon at the Stockholm 1912 Games.
Zach – Soccer
Did you know? Football (or soccer) has been included in every Summer Olympic Games as a men's competition sport, except 1896 and 1932. Women's football was added to the official program at the 1996 Atlanta Games.