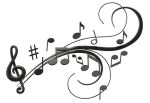 Amy – It boils down to who I'm with, the mood I'm in, what I'm doing at the time, and what I need from music to determine what is my "favorite" in the moment.
Just for some background… From the time I was old enough I sang in the children's choir at church and later became a cantor for the same church while singing in several school choirs. I won a grant from the Children's Foundation for the Arts when I was a senior in high school for singing Sarah McLaughlin's "Angel." When I first went to college, I started out as a Voice Performance major singing music from many different genres.
I've always appreciated all types of music and had no real "favorite" (except maybe when I went through my New Kids On The Block and Vanilla Ice phase in junior high). My taste is so eclectic that I even like country music when I swore I would never listen to it along with a little rap. I listen to everything from classic rock and southern rock when I clean, to country and pop. Classical music helps relax me and I enjoy opera. I jam out to 80's and 90's music in my car when I need a pick-me-up and I have fun listening to Doo-Op and show tunes when I'm feeling goofy.
Ashleigh – My favorite music is probably anything by The Beatles.
Cathy – My favorite music is Eclectic (not electric)—a variety.
Christy – My favorite music is 80's Rock/Hair Metal. I am a HUGE Bon Jovi fan!
Chuck – My favorite music is Alternative Rock. However, I usually listen to comedy while driving around now on XM.
CW – They Might Be Giants, Green Day, classical...whatever catches my ear!
Dan – I listen to just about everything but country music; everything from The Beatles to the Wu-Tang Clan. My one exception for country is Johnny Cash.
Doug – My favorite musical group is the Canadian rock band, Rush.
Dylan – Jazz! Just saying, it makes me feel too cool for school. But nobody is that cool. Stay in school kids.
Fred – I prefer music from the 80's and 90's, but enjoy most all music.
Jandy – Growing up, I was a big Country Music fan. I guess you could say that "I was country when country wasn't cool." But, today I enjoy listening to Contemporary Christian music. My favorite artists are Mandisa, Francesca Battistelli, Toby Mac, and Jamie Grace.
Jim – I like Classic Rock, Folk and Country music!
Jo Ann - My favorite music depends what mood I'm in and what I'm doing. I like to start out my morning with Contemporary Christian Music. The lyrics help to set the tone for the day. When I go for a power walk or clean, I like anything by the Beatles, Motown, 60's or 70's Rock'n'Roll… helps to get me moving!
Ken – The Beatles rule! I'm also a big fan of Classic Country (Johnny Cash, George Jones). Motown also gets me moving.
Kris – I enjoy listening to music from the 50's/60's…even though I wasn't old enough to appreciate the 50's at the time!
Laurie S. – I am a diehard Metal Hair Band fan--Kiss (seen in concert 14 times), Motley Crue, Dokken, Twisted Sister, Ratt, just to name a few. I also flip to the other side with Migos, Kendrick Lamar and so on.
Laurie T. – My favorite artist is Bruce Springsteen, but I love R&B and Rap.
Marybeth - I love folk rock , regular rock, classical, jazz and reggae – Blues puts me to sleep (literally) and I 'm not a huge fan of 80's music (sorry Ron). Here's a list of few favorite go–to artists from my iPod: Bob Dylan, Neil Young, Led Zeppelin, David Byrne, John Mayer, Coldplay, Mumford and Sons , Alicia Keys and Macklemore. Whew … stopping there.
Melissa –I grew up in the 90's. I would definitely have to go with the boy bands of the 90's, especially the Backstreet Boys. My sister and I still go to see them when they tour.
Mike – I like both kinds of music, Country and Western.
Nina – I like everything from Motown to alternative rock. My son plays the sax and my daughter plays the oboe and mellophone; and I have grown an appreciation for the music they play in marching band and concert band.
Pat – I'm a Libra so here goes: I like 80's music because that is what I grew up on—Pop and the Hair Bands of the 80's. But, I am also a person that can listen to Mozart and then listen to Metallica. I talk with my son about Rap and my daughter about Scream Metal. I go from one extreme to the other.
Paula – Bruce Springsteen, anything! I am a Jersey girl, after all!
Thomas – I'm a jazz guy primarily, but I will pretty much listen to anything.
Tom – I listen to whatever. My radio is broken now, and I have a bunch of mixed CDs.
Tracy – Classic rock!
Zach – It depends on the day. I listen to just about everything.