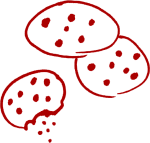 Amy - I do not like cookies. I enjoy baking but not eating them!
Ashleigh - My favorite cookies are Russian Teacakes. My grandma always makes them at Christmastime and they are sooo yummy.
Cathy - Definitely Chocolate Chip for me!
Christy - My favorite cookie is Savannah Smiles Girl Scout cookies, and not because that's my daughter's name but simply because they're awesome! Also, the Samoa Girl Scout cookies.
Chuck - A nice, plain, fresh, soft chocolate chip cookie!
CW – Chocolate creme Oreo with a glass of milk.
Dan - My favorite cookie has to be a good chewy Chocolate Chip cookie! I learned that adding a slice of fresh bread to a cookie jar will turn stale cookies into delicious chewy cookies. Moisture moves from the bread to the cookies; it's cookie osmosis!
Doug - Chocolate Chip
Dylan - Halloween Sugar Cookies. The brand is irrelevant; they all taste amazing.
Fred - I really enjoy a good Oatmeal Raisin cookie.
Jandy - Chocolate Chip are my favorite by far, but I also like my family's Molasses Cookie recipe too!
Jim - Chocolate Chip
Jo Ann - Chocolate Chip or Ginger Snap…definitely with a cup of peach tea!
Ken – I love Almond Crescent Cookies (the best ones are found at true JERSEY DINERS!)
Kris - Good old Toll House Chocolate Chip Cookies–especially the way my sister makes them. I can never make mine come out the same way!
Laurie S. – Okay, this is a sore subject with me. I make the BEST peanut butter cookies, but I'm an an EPIC fail on chocolate chip cookies (even with tons of advice).
Laurie T. – My favorite cookies are Oatmeal Raisin. They are delicious!
Marybeth - My friend Melissa makes an amazing 7 Layer Bar every Christmas…she always makes me an extra batch! (Not that I could ever eat a whole batch of cookies by myself–ha!)
Melissa – Freshly baked chocolate chip cookies are the absolute best!
Mike – I would have to say my favorite cookie is probably my wife's Toffee Cookie. They are delicious!
Nina - Italian Pignoli cookies! I love to pick off the nuts and eat them first.
Pat - I like soft, hot and gooey chocolate chip cookies!
Paula – Double Stuf Oreos!
Thomas – Any Chocolate Chip cookie--preferably two with ice cream in the middle for peak enjoyment.
Tom – Oatmeal cookies with raisins…yum yum!
Tracy – Oatmeal chocolate chip
Zach – Tag Along Girl Scout cookies are the best.