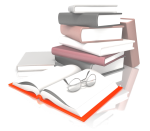 Amy – For me to pick my favorite book is impossible. I haven't read enough books to be able to choose a favorite yet, and I don't know if I ever will. My love for reading started with The Monster at the End of This Book read to me by my mom along with other classic children's books like Where the Wild Things Are. Some of the more impactful books I've read are The Four Agreements, The Innocent Man, The Kite Runner, The Glass Castle, The Shack, and Final Gifts. I highly recommend the first for self-awareness/improvement and the last is one everyone should read, as we all have to face the passing of loved ones. Not everything I read is serious though: The Wonderful Wizard of Oz original series by L. Frank Baum, the Harry Potter series and the various other fiction novels/series on my bookshelves prove it.
Ashleigh – I have read a lot of books that I consider favorites. I couldn't possibly choose just one. Some of my favorite series of all time are the Anne of Green Gables novels, the Wrinkle in Time Quintet, the Enders Game books, and the Dragonlance Chronicles. I recently re-read the Harry Potter books, and it was like visiting with old friends.
Cathy – Hmmm…selecting one book is just too hard because I love to read. However, for whatever reason the book Jonathan Livingston Seagull by Richard Bach made an impact on me in high school. It's a quick read so I occasionally re-read it just to be inspired/reminded to follow my own path.
Christy – My favorite books are Sue Grafton's The Kinsey Millhone Alphabet Series.
Chuck – I just read online tech-type sites—no normal books!
CW – Do Manga count? If so, all types. And sadly lots of technical books/manuals.
Dan – My favorite book will always be Wacky Wednesday by Dr. Seuss!
Doug – I enjoy flipping through magazines: Back Country, Vermont Life, Muscle Car, Popular Mechanics, Family Handyman, Wood.
Dylan – The Hitchhiker's Guide to the Galaxy - It's not even that it's just a great story, but also because of the story arc surrounding Deep Thought. Deep Thought was the most advanced supercomputer in existence. When asked what the answer was to "The Ultimate Question of Life," anticlimactically, Deep Thought stated, "42." Albeit it was meant as more of a one-off joke in the book, in ASCII programming language, an asterisk is commonly used as a placeholder symbol which typically translates to "Whatever you want it to be." This can be shown whenever you enter a password, it always shows asterisks to represent that they are exactly the character you entered. So when Deep Thought, the enormous and brilliant supercomputer, was asked "The Answer to the Ultimate Question of Life", it answered as a computer would.
Fred – I don't have a favorite book.
Jandy – As of late, my favorite author is Beverly Lewis. She writes about the Amish and Mennonite communities in Lancaster, PA—one of my favorite places to visit. Oh, to live back in simpler times! In stark contrast, I must admit that it took the Twilight series to restore my love of reading for pleasure.
Jeff – My favorite book is The Lightning Thief by Rick Riordan—in fact, I enjoyed reading the entire Percy Jackson series growing up!
Jim – My favorite book's are history books, like Herodotus: The History by Herodotus, or Anabasis by Xenophon. My favorite is Caesar's Commentaries by Julius Caesar. To be able to read a book written before Christ was born in Caesar's own writing is awesome. I also like the 4-part book series by Donald Kagan, The Outbreak of the Peloponnesian War or almost anything by the author, Theodore Ayrault Dodge.
Jo Ann – My favorite series is The House of Winslow by Gilbert Morris. I love historical romance novels…I like happy endings!
Joe – My favorite author would probably be John Steinbeck. The Grapes of Wrath and Of Mice and Men are just great American classic books.
Ken – My two favorite books are Life by Keith Richards and Clapton: The Autobiography by Eric Clapton, both autobiographies. My favorite book genres are: Humor, Political/U.S. History, Biographies. My favorite authors are: James Paterson (always a great page turner!) and Greg Gutfield (funny and smart!).
Kris – I don't have a favorite book…just enjoy reading good stories!
Laurie S. – Does the ShopRite flyer count? After looking at a computer all day long, the eyes struggle.
Laurie T. – My favorite books are the ones I read to my girls.
Marybeth – My most recent favorite book is All the Light We Cannot See by Anthony Doerr. It's beautifully written. Long time favorites series are: Harry Potter and Game of Thrones. Favorite authors include: for non-fiction: Bill Bryson; for fiction: Ann Patchett and Ken Follett.
Melissa – I was a big fan of both the Twilight and Hunger Games series when they came out. Now with a baby and working full time, I don't have much time for reading, unfortunately. If I do get the chance, I normally just look at the New York Times Bestseller list and choose one from there to download to my iPad.
Mike – I'm not much of a recreational reader.
Nina – But Not the Hippopotamus by Sandra Boynton. I think I read that story to my children hundreds of times when they were small. Very simple story, but very powerful theme of acceptance. The most recent book I read was Unbroken by Laura Hillenbrand. It is an amazing true story of the life of World War II veteran Luis Zamperini.
Pat - My favorite genre is ConnectWise. My favorite series is the board series. My favorite books are named Managed Board, Backup Board, Project Board and everyone's favorite the Professional Board. (Pat needs to get a life outside of IT Radix!)
Paula – My favorite book is The Help by Kathryn Stockett. I felt personally touched by this book because it took place when I was just a small child. I have a hard time grasping at the way people were treated and the struggles they had to endure.
Thomas – I unfortunately don't get a lot of time to read much lately, but if I think back to my childhood then the Harry Potter books jump right into my head.
Tom – My favorite book is The Wheel of Time series by Robert Jordan.
Tracy – My favorite books are the Star Wars genre.
Zach – I'm not a huge book reader, but I loved The Great Gatsby by F. Scott Fitzgerald.