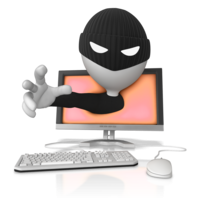 Business identity theft is serious business!  Steve Cox, from the Better Business Bureau, stresses that "Business identity theft is a very real concern in today's marketplace.  From a criminal's perspective, it is significantly more cost-effective to steal business identities than consumer identities."  Here are some ways you can protect your business networks and computers:
Use business computers ONLY for business
Using business computers for personal use (e.g., casual Internet surfing, social networks, online gaming, downloading programs, and file sharing) exposes your business computers to additional viruses, spyware, and other security risks that can jeopardize your business operations—placing the confidential information of your business, customers, and employees at risk.
Use up-to-date anti-virus/Internet security software
Anti-virus and Internet security software programs are paramount to the safety of your business.  Don't rely on free software to protect your business.  It's important to use software that actively scans and is frequently updated to keep on top of new threats.
Be vigilant about keeping software updates and security patches up to date
Regularly check for and install any security updates for your computer's operating system and Internet browser program to ensure that the latest versions designed to protect against known software vulnerabilities are in place.  Set up an automatic update schedule with a specified frequency no less than weekly.
Encrypt your business' wireless network
If your business uses a wireless network that is not encrypted, others can gain access to your network.  WPA2 is currently the strongest wireless network encryption standard.  Use a strong password for your wireless router and disable broadcasting of your SSID (Service Set Identifier).
Use a firewall on your computer network
A firewall is a software program or hardware device that monitors and controls external connections to your computer and/or network.  A firewall helps to prevent unwanted external connections.  It is your first line of defense against unauthorized login attempts and malicious code attacks.
Questions?  Connect with IT Radix and we'll be happy to dot the I's and cross the T's to ensure that your business computers and networks are protected from business identity theft.
First published in our April 2016 IT Radix Resource newsletter