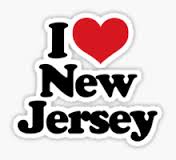 Amy – There is so much to love about New Jersey, whether you enjoy country life and horseback riding or the hustle and bustle of the city. From hiking in the mountains of the Appalachian Trail, to the beaches of LBI and the botanical gardens—there's so much natural beauty to be found and it changes with the seasons, so the sights are always new yet familiar. Then there's the NYC skyline and Atlantic City, the museums, aquariums, zoos, historical sites, and the shopping. Not to mention 24-hour diners and any type of food you're in the mood for!
Ashleigh – My favorite thing about the Garden State is that we're the Garden State! I love planting my flower and vegetable gardens every year, and the springtime is always so welcome after our winters.
Cathy – Not being a Jersey Girl originally, the thing I enjoy most about NJ is "accessibility"—there is lots to do in NJ or within a day's drive.
Christy – I am a proud Jersey Girl, born and raised. There is so much that I love about NJ. The food, the culture, the history, the talent and music (Bon Jovi), the shores (specifically the Wildwoods which is my personal favorite shore location), full-serve gas stations with some of the lowest gas prices in the country might I add, and best of all...the people. Despite the bad rep we tend to get, the people in NJ are some of the best in the world!
Chuck – What do I love about NJ? Mostly the people, but also the food: pizza and bagels. You are close to nature, hiking, and even NYC/Philly if you want the opposite. Diners are everywhere and open 24/7. Unlike most, I couldn't care less about the beach, or "The Shore" as I am supposed to call it…it's nice to go there when there aren't so many people there, though.
CW – I love hiking on a cool day. Thankfully, there are so many places here in northern NJ to do it--Tourne Park in Denville is one of my favorite places.
Dan – New Jersey is the diner capital of the world. Taylor Ham/egg/cheese and disco fries define the NJ diner experience. My favorite activity to do in New Jersey is hiking. I think that those that haven't visited New Jersey would be surprised at how beautiful it can be. Some of my favorite hiking spots are Split Rock Reservoir in Boonton, Round Valley in Lebanon, and High Point in Sussex.
Doug – Well, I can tell you that the only thing that I do NOT like about New Jersey is… the traffic!
Dylan – I love not being able to make a left turn without risking my life. (sarcasm here)
Fred – I love Ringwood State Park in the summer...it's beautiful!
Jandy – While I now live ½ way across the country, my roots are still in NJ. I have many fond memories of trips to the Jersey shore (not the beach)—sunbathing in Seaside, strolling the boardwalk in Wildwood (watch the tram cars please), and playing beach volleyball in Ocean Grove. As a child, my summers were filled with trips to Turtle Back Zoo, the Jersey State Fair, and Great Adventure (not Six Flags). One of the things I miss most about NJ is the food—Taylor Ham, Italian pizzeria pizza, diners at 1am, bagels, deli sloppy joes, sweet corn, and Jersey tomatoes! When it comes to food, nothing beats NJ!
Jim – What I like about New Jersey is its location and abundance of things to do. You can go to the many different beaches, take a mountain hike, walk along the ancient Hudson River Palisades, or go to Atlantic City for a weekend getaway. Other activities that I enjoy are: canoeing down the Delaware, fishing in the lakes/rivers/ocean, parachuting, flying, ballooning, golfing or just going to the driving range or batting cages.
Jo Ann – I've lived in NJ all my life. With the exception of vacations, I never really spent a lot of time away from the Garden State. High taxes, exorbitant insurance premiums and unceasing traffic jams are the price to pay for living here. On the flipside, NJ is rich in history... several important Revolutionary War battles were fought on New Jersey soil. NJ is home to Ellis Island and the Statue of Liberty where many of our ancestors traveled to find a better way of life. We are the leader in blueberry and cranberry production. Jersey tomatoes are known to be the best you can buy. Looking for a good home cooked meal? We are known as the Diner Capital of the World! I guess I disagree with NJ critics, our state has much to offer, but I guess the best thing that I like about NJ is that I am minutes away from most of my family… immediate and extended, and that is what will keep me here!
Joe – I love NJ food! Pizza, Buffalo Chicken Pizza to be exact 🙂 Last summer, My fiancé and I went to California, and when you leave Jersey, you realize quickly that Pizza is not all the same. I also love the Jersey Shore…it brings me back to my childhood going there as a family. Now, with my own child on the way, I hope to share the same amazing and fond memories with her that I still remember and reflect on as a child. New Jersey is full of activities—hiking, fishing, fireworks. Although these things may not be "Jersey" specific, growing up as a Jersey boy, they have become a part of my summer routine. I have spent many summers attending different firework shows all over NJ (North to South). It's an amazing state that you can take a short drive and be in some wonderful places. Whether it be the Shore, the Wilderness, or even NYC, it's a short drive that never requires weeks or months to plan.
Ken – I enjoy Jersey diner Disco Fries (French fries with cheese melted on top covered with chicken gravy)…Mmmmm. And who doesn't love driving south on the GSP May through September or those NJ left turns where you turn right to go left! Fughedaboudit!
Kris – The Jersey shore is beautiful! I love just sitting, watching and listening to the ocean!
Laurie S. – I am a born-and-raised Jersey girl for sure! The Jersey Shore is my favorite place to be. Sometimes the winters are brutal, but I can't see myself anywhere else.
Laurie T. – What I love most about NJ is that there is always something fun to do. In the summer, you are an hour away from the beach, waterparks, boardwalks, stadiums and site seeing. In the winter, you are an hour away from skiing, snow tubing and snowboarding.
Marybeth – Jersey cuisine is the best! My family would absolutely say that Taylor Ham, Egg and Cheese sandwiches (preferably on a bagel) is their favorite sandwich. But, as I am not an egg lover, I will have to go with the delectable New Jersey tomatoes—best eaten in August! Even the fragrance of a just-picked tomato can make my mouth water.
Melissa – New Jersey has the best food! Other than the typical pizza and bagels which are a NJ staple, you will never go hungry with all the diner's located just about everywhere. A lot of them are open 24 hrs a day, and you can literally order anything you can think of. When it comes to shopping, there can never be too many malls to shop at! No matter where you live, there are at least 2 malls within 20-30 minutes, if not closer. Garden State Plaza in Northern NJ, Paramus would have to be my favorite! The Jersey Shore is a staple in New Jersey. My favorite spots are Point Pleasant and Long Branch. Point Pleasant is great because there is a boardwalk. Now that I have a son, it will be great to take him down to enjoy the beach and rides all in one place! Long Branch has a nice little shopping/restaurant area instead of a boardwalk.
New Jersey is full of great things to do. I live in Ringwood which is way up north. we have a lot of state parks and there is also a botanical garden as well. They are great to visit. They are great for a nice leisurely stroll or for hiking. Although both teams are called NY Giants and NY Jets, they are both located in New Jersey. Heading over to MetLife stadium in the fall to watch a game (Giants all the way!) is always a great time. There are also many apple and pumpkin orchards located in New Jersey. Those are great to visit on a nice fall day.
Mike – My favorite NJ food is probably Hot Dogs. The best hot dog places of all time are right here in NJ: Max's, Rutt's Hut, Hot Dog Johnny's, The Windmill, The Galloping Hill Inn, and the list goes on. Growing up for me was really about the outdoors. People think Jersey is all about the shore, but there is so much more: woods, mountains, lakes and such. Camping and fishing with my family are some of my best Jersey memories.
Nina – Hands down the Jersey shore is my favorite thing about NJ. There is nothing better than the sound of the ocean waves. We have a New Year's day tradition of going to Point Pleasant Beach boardwalk. It is a great way to start the year. Also, I love to go to concerts; it is a giant sing-a-long of the music you love and a temporary escape from reality. PNC Bank Arts Center always has at least one concert each summer we want to see.
Pat – New Jersey is full of fond memories for me. I liked going to the shore when I was young with my family, and I now enjoy going down the shore with my children and visiting one of my sisters. I like going to watch the Giant games, and there are a lot of trails to go hiking on. There is a lot to do here in NJ. You can go to the Turtle Back Zoo, Six Flags to Vernon Valley. Not to mention the golf courses all over the state.
Paula – I love living in NJ because we have the 4 seasons. I especially like the fall where the leaves are changing and the weather is getting cooler. I also love the beaches and the close proximity to NYC. Plus, the best musician is from NJ (aka, Bruce)!
Thomas – The food in Jersey is in a league of its own. You can find a wide spread of cuisine buried in every town in the state. It is hands down my favorite part about living here.
Tom – I love all the diners which are open late, and also that someone pumps my gas for me. 😀
Tracy – I have lots of favorite things in New Jersey. As for food, my favorite places to eat are: Yangtze Kitchen in Netcong and the Jefferson Diner in Jefferson. My favorite place to visit is Jockey Hollow National Historical Park in Morristown. I really enjoy visiting National Park Service sites. Why? I started visiting National Parks and collecting the cancellation stamps in my National Parks Passport book as a hobby. My New Year's Resolution was to visit all the NJ parks and get the cancellation stamps for them this year. I have 14 more to go in NJ this year; wish me luck!
Zach – I love being close to everything but still being able to get away from the busy areas and enjoy the more rural parts as well.