Welcome to Our Duck Hunt!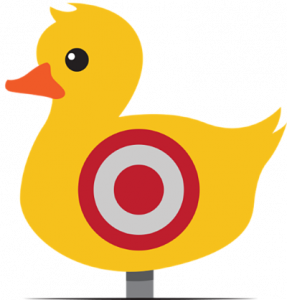 Spring has sprung and we invite you to participate in our "Duck Hunt" on our website for your chance to win a tablet.
Aim your sights at finding the sitting duck...we're giving you an easy target.  Each week, our duck (pictured here) will show up on a different page of our website.
How to Play...
It's simple: Starting April 11, find the duck hidden somewhere else on our website, click on the image, and enter your name to win.
Only one entry per person per week will be accepted but be sure to enter once a week to increase your chances of winning.
Our Duck will spread his wings and fly off our website at 5:30pm on Friday, June 17!
We'll be drawing the winning name on Wednesday, June 22, just in time to start the summer with a new tablet in hand.  All participants will receive a free webcam cover!
Don't Be an Easy Target for Cybercrime...
We're excited to share more about who we are and the services we provide, as well as keep you in the forefront of cybersecurity so you can keep cyber "cwiminals" at bay.