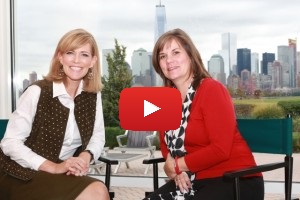 The State's Top Business Leaders Join Together to "Embrace the Future" with New Jersey's Leading Women
Time and time again, thousands of New Jersey's women entrepreneurs continue to impress with their admirable drive and business success.   However, a selective group of twenty-five esteemed women far exceed the confines of traditional success and continue to push the boundaries with their businesses.
These highly regarded women entrepreneurs will be honored as the 2015 "Top 25 Leading Women Entrepreneurs" by LWE at the organization's 5th Annual Recognition Event. This year's theme, "Embracing the Future," will spotlight the efforts and impact that these respected business leaders and their companies have played and will continue to play in building a stronger and more innovative economic foundation for our state and the country at large. This group of talented and successful women has been carefully selected by a respected professional advisory panel based on a criterion of innovation, market potential, and advocacy for women and community involvement.
Cathy Coloff founded IT Radix in 2008 realizing the need for businesses to stay abreast of ever changing technology. The trusted IT advisor to many businesses, she brings commitment, relationships and even some fun to what some may view as a serious industry. "IT can be a dry topic, but I think it's exciting to see how technology can help a business to prosper and exceed their expectations." Confucius says, "Choose a job you love, and you will never have to work a day in your life." And this is exactly what Cathy has done…found her perfect niche where she never tires of bringing the best IT services and products to her valued clients. For Cathy, it's about win-win and partnerships...getting to know what her clients need and giving it to them! When not working, Cathy enjoys escaping to Vermont to spend time outdoors with her husband, Doug, and son Alex.
"I am truly honored to showcase the talents and stellar leadership traits of these amazing women," says Linda Wellbrock, CEO and Founder of LWE. "Remarkably, each year our pool of hundreds of nominated applicants continues to get stronger and stronger; making it difficult for our advisory committee to select just twenty five. However, in the face of a constantly evolving and exceedingly challenging market, this year's featured women business leaders' creativity and entrepreneurial spirit exceed the others, as proven through their exceptional business skills and strong influences within their respective industries."
In 2015, a record of nearly 500 nominations were received from women entrepreneurs and new this season "intrapreneurs," corporate innovators, who are all accomplished, intelligent and inspired by their work. These trendsetting women make an impact in their companies, their industries and their communities.
Historically, honored LWE's support hundreds of non-profit organizations, employ tens of thousands of workers and generate billions of revenues in their businesses. These revenues are generated from New Jersey-based companies that span from start-up businesses to global entities:
6% from companies that generate revenues under $1 million;
13% from companies that generate revenues between $1-5 million;
24% from companies that generate revenues between $5-$10 million;
25% from companies that generate revenues between $10-20 million; and
26% from companies that generate revenues that exceed $20 million.
Leading Women Entrepreneurs works to create, connect and showcase women leaders through prestigious media partnerships, events, memberships and retreats. The organization is supported by many prestigious business partners including: TD Bank, Cohn Reznick, Comcast, Morgan Stanley, Micro Strategies, Jersey Central Power & Light, Coughlin Duffy, Mass Mutual, Truvee and SocialFix and media sponsors include New Jersey Monthly, NJ BIZ and more.
This year's prestigious recognition event will take place at the scenic Liberty House Restaurant in Jersey City on Monday, November 16, 2015 beginning at 6:00 p.m. In addition to recognizing some of the state's top leading women, the event will also serve as an inspirational evening centered on "Embracing the Future," and will feature several prominent speakers who will share their personal stories and the key secrets of their success including Diane Brady who is an award-winning writer, interviewer, and former senior editor at Bloomberg Businessweek. She has interviewed newsmakers worldwide for the magazine and at events from the World Business Forum to the APEC CEO Summit. She has also taken a lead role in developing cross-platform initiatives and partnerships to reach new audiences. She's a frequent guest on NPR, BBC, and other networks, and has guest hosted shows for CNBC and the ABC radio network.
Event tickets are available to the public for $150, Group rates are available by contacting [email protected] and sponsorships are available. Register online at www.lweworld.com or call 908-568-5591.
Leading Women Entrepreneurs continues to recognize the hard work of New Jersey's top female entrepreneurs and intrapreneurs with a mission to create a sustainable, ongoing environment that brings leaders together and showcases their attributes and contributions.