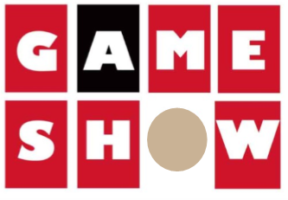 Amy – I definitely don't want any whammies (in life or otherwise) and sometimes find myself repeating the mantra of every player that was ever on Press Your Luck, but as a Nickelodeon kid, I don't know anyone that didn't want to be on Double Dare and Legends of the Hidden Temple. Plus, who didn't find a live version of Tic-Tac-Toe with Alf and other big celebrities "acting" on Hollywood Squares amusing? However, I'll always have a special appreciation for Wheel of Fortune and Jeopardy! as some of my fondest memories growing up are of quality time spent watching them with my great-grandmother, grandparents, and mom with the TV blasting (because Nana couldn't hear well) with a bowl of vanilla ice cream.
Andrew – I don't really like TV game shows. Honestly, I don't really watch TV at all. All the shows that I watch are things on Netflix and other services.
Ashleigh – I don't watch any game shows!
Cathy – I never really watched a lot of game shows, but I was always curious about Password…how could someone say just one word with a funny tone and the other person figure it out without some kind of pre-prompting?
Christy – I don't really watch game shows; however, once in a while I'll watch Hollywood Game Night.
Chuck – Press Your Luck! Just because the sounds were fun... No whammy, no whammy... STOP!
CW – The Chase and Jeopardy.
Dan – My favorite game show is Jeopardy! I watch it pretty much every day. I even have a Jeopardy! calendar on my desk and enjoy quizzing my coworkers.
Doug – I don't watch game shows.
Dylan – My favorite game show is Ninja Warrior--awesome stages, fierce competitors, wacky personalities and the ultimate challenge.
Fred – The Price is Right was my favorite game show growing up.
Jandy – I remember enjoying Match Game and Hollywood Squares when I was younger. I would never do well on The Price is Right because I seldom pay full price for products without a coupon. Now, if you'd ask me "what's a good price for a product?"…I'd be really good at that game! I'd have to say that my favorite game show is Wheel of Fortune because I'm pretty good at guessing the phrases.
Jim – My favorite game show is The Price is Right with Bob Barker.
Jo Ann – Game shows bring back childhood memories. I watched many… Password, What's My Line? and To Tell the Truth. My favorite, though, was Let's Make a Deal with Monty Hall. I used to love to watch the contestants select a door and wait anxiously to see what was behind it!
Joe – My favorite game show is Lets Make a Deal with Wayne Brady. I have it set to DVR every day to watch at night. It's fun and silly and is very enjoyable to watch instead of the "serious" TV shows that control the airwaves.
Ken – I'm not really a game show guy. As a kid, I liked watching Match Game…for the creativity and the "double entrendres" of the answers. In college, the whole fraternity loved The Gong Show—we all miss Gene Gene the Dancing Machine. These days, Jeopardy! is very good. Sometimes I can get a good number of answers, and often it is very difficult.
Kris – I don't really watch many game shows, but when I do, it is Jeopardy! Sometimes when I play along I feel very smart but then there are the days when I don't know anything!
Laurie S. – The Wall
Laurie T. – My favorite game show is Family Feud. I've watched it since Richard Dawson, but I love it with Steve Harvey!
Marybeth – I don't watch any game shows regularly, but they are definitely a cultural mainstay. I remember as a child being home sick from school and happily watching some of the classics: The Price is Right, Match Game, Let's Make a Deal. My family also has a board game version of Jeopardy! and have enjoyed many hours of rainy day play.
Melissa – When I was younger, my great aunt would watch my sister and me occasionally during the summer while my mom was at work. She only had basic cable, so our TV viewing options were limited. The one memory that stands out is that we would watch The Price is Right every single time we were there. If I happen to be home during the day (very rare lol) I do make sure to catch The Price is Right! Before working here, my work hours didn't start until noon, and I would watch the new episodes of Let's Make a Deal every morning at 10am to kill some time. I thought Wayne Brady was a great host, very entertaining! From time to time, I watch Family Feud–just to have on for background noise.
Mike – My kids and I always loved Press Your Luck (later named Whammy!) and Family Feud. We still watch the latter together at least once a week.
Nina – My two favorite game shows growing up were Match Game and The Gong Show (not even sure it counts as a game show). My siblings and I were home over the summer in the 70's, and we spent the afternoons watching game shows together. They were two of the funniest and edgiest shows on TV at the time, which attracted them to us as teenagers! Now (this dates me), we watch Jeopardy!
Pat – My favorite game shows are: Family Feud, Wheel of Fortune and The Gong Show.
Paula – My favorite game show is Chopped.
Thomas – I can sit and watch a Family Feud marathon all night long.
Tom – Don't have one.
Tracy – When I was younger, I watched Jeopardy! and Wheel of Fortune with my grandmother when I was visiting her. I would also watch The Price is Right, Family Feud, Press Your Luck, and The Gong Show. I haven't watched a game show in years.
Zach – I loved watching Family Feud with my friends and family.