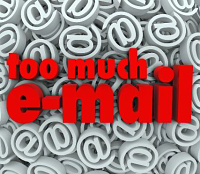 By invitation from the Morris County Chamber of Commerce,
IT Radix is pleased to present
Email Overload:
Take Control of Your Inbox
Date:
Wednesday, February 17
Time:
2:15pm to 4:30pm
Location:
Morris County Chamber of Commerce
325 Columbia Turnpike
Florham Park, NJ
Did you know that most people spend an average 28% of their workweek reading, sending and sorting emails? That's about 13 hours that could be spent on more productive tasks—like building business.
Give Your Inbox an Overhaul
If you're using your Inbox as a to-do list or mixing business and personal messages, you're not alone. But what if you could learn the secrets to improving your email efficiency and getting the most out of each workday?
In this 90-minute session, presented by IT pro Cathy Coloff of IT Radix, you'll discover how to:
Identify which messages need your attention—and which don't
Flag and categorize incoming emails
Create task lists and use tools like rules and groups to be more efficient
Leverage useful external add-ons
Develop a filing system that works for you
Using Outlook-specific examples that can be applied to almost any email program, this workshop will help you finally take control of your Inbox.
Please feel free to bring your tablet or laptop.
Click here to view our past events.